Hendrica Regez, aka 'Rica', is a German native now living in Galena, IL. A self-taught artist, creating over 100 originals per year, she loves to explore new techniques and mediums. Her signature style is using acrylics in a technique that combines the spontaneity of watercolors with the texture of impasto. Strong colors in a limited palette give her work a powerful, "less is more", introspective quality. Her subjects are taken from nature and more or less abstracted, stylistically lying somewhere between abstract symbolism and hyper-surrealism. She has invented her own iconographic language to communicate concepts and emotions.
Her work is owned and displayed by private collectors and organizations nationwide and throughout Europe.
In addition to her 'Open Studio' events in May and November,
you can see her work at regional art exhibits and at Hello Galena! Artist Cooperative, Galena IL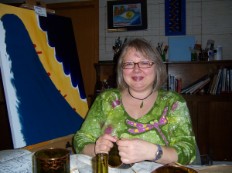 My goal is to create meaningful art, using distinctive techniques, without being banal, or too cerebral. Something that speaks to the people of the 21st century… My work is an expression of my belief that everything is connected and that we are just one branch on the tree of life.
To my customers: It brings me immense pleasure to know that people appreciate my art, and that they display my work in their home or office. You are my motivation!